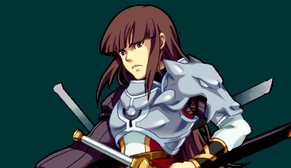 Under Construction~ In the Dungeon - Steps
Evil You (Talk then Attack)
-Picture-
- Door Opens -
-Picture-
Evil You (Talk) - 3 Shadow Skeleton Archers (level 15), 3 Shadow Skeletons (level 14)
-Picture-
- Door Opens -
3 Shadow Kebings (level 14)
-Picture-
Follow the blue Light in the Dark until the last room
-Picture-
Evil You (Talk, Attack) - Shadow Marlone Archer (Level 17) - Shadow Marlone Fighter (Level 16) - Stone Statue Goblin (Level 18) (Stone Statue Goblin spawned again at regular rate over time)
-Picture-
Rewards:
Old Bag (15 Days)
1 Level 20 Weapon (You can choose between two weapons for your class)
New Title Acquired
Promotion Obtained (You can wear your Level 20 Weapons/Gears and use the level 20 Movers)
5 Extra Stat Points

Tips:
Is Removing your gears useful?
What to do in the boss room?
Ad blocker interference detected!
Wikia is a free-to-use site that makes money from advertising. We have a modified experience for viewers using ad blockers

Wikia is not accessible if you've made further modifications. Remove the custom ad blocker rule(s) and the page will load as expected.